VietNamNet Bridge – 'Birth' by Nguyen Van Tien or Tien Van Mieu on Sunday opened at Mai's Gallery in District 1, expressing a bold audacious style covering sexuality and social issues.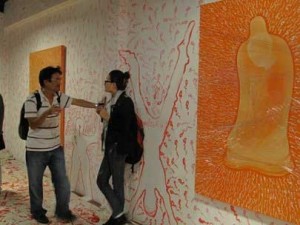 Onlookers debate the opening of the art program 'Birth'
by artist Nguyen Van Tien at Mai's Gallery in District 1.
The event starts the 'Saigon Open City' – a program of fine arts from 2005 to 2007, with diverse activities oriented toward the development of community connection and relationships between artists and artists, artists and populace, artists and businessmen, sponsors and collectors.
After a long pause, Saigon Open City will be reinitiated as an 'open space' for contemporary art shows. It is a space where knowledge, points of view and creativity in fine arts convene and exchange non-profitably.
Visitors will see a conceptual space with the artist's own symbols as he improvises and interacts such a conceptual space with these symbols of the human body, with pregnant woman, sperm, condoms, toilets, red lines in diverse shapes and sizes which will make people think, discuss and argue.
In general, it is very difficult to classify Tien's art conceptions and forms into any existing art school. That issue forces us to go on examining and discovering this artist's character. This is also the main reason why Saigon Open City decided to begin the new era with 'Birth' which is supported by the Goethe Institute.
VietNamNet/SGT